At the annual conference organized by the online agency IT Melona, ​​the lecturers presented the latest trends in digital marketing. They accompanied their thoughts with practical examples and useful advice.
From the five essential characteristics of successful online stores to how the choice of influencers can positively or negatively affect brand recognition, the content was suitable both for experienced entrepreneurs and for those who are just entering this world. There was also talk about the importance and power of video and how to create texts that attract attention.
The event was also attended by Ivo Boscarol, one of the richest Slovenians, who interestingly said about digital marketing that "in 30 years, he has made only one decision regarding marketing". With his answer, he made everyone present laugh, and then with a symbolic colored gesture he ensured a nice end to the event.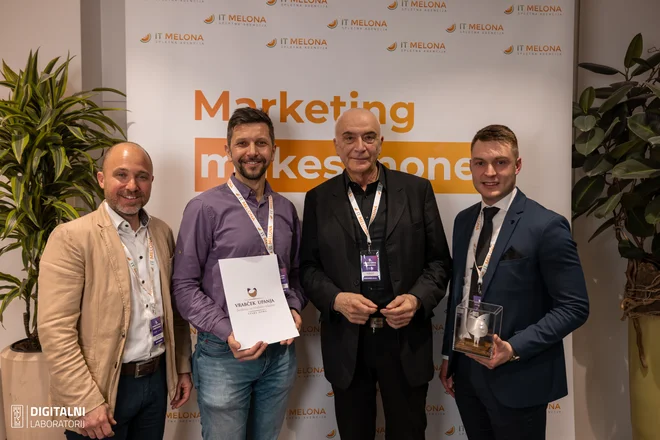 PHOTO: Ivo Boscarol and the IT Melone team.
Five Laws of a Successful Online Store
Roman Čretnik, digital marketing professional and one of the co-founders of IT Melone, first explained in the introductory lecture what is most important to the majority of customers online. He said the following factors were key: ease of payment, variety of products, tracking of shipments, free shipping and the ability to choose the delivery method.
He then explained what should be important to everyone who has or operate an online store. These are; SEO optimization (web page optimization), quality design, security and trust, easy payments and delivery, and automation of repetitive processes.
The key thing in SEO optimization is high-quality and useful content that meets the needs of users, said Čretnik. Content should contain relevant keywords to improve visibility in search engines. In addition, credible internal and external links, meaningful image naming, clear page titles, and loading speed of a website or store are also important to search engine algorithms.



For quality design, companies should follow the principle of 'less is more'. This means that the site should be clean – it should not be saturated. In addition to visual appeal, websites must be especially adapted for mobile phones (mobile very first). Čretnik said that today most purchases in online stores are made via mobile phones. This is one of the trends that companies must pay attention to and respond to.
Security and trust are also important, as customers must feel safe when shopping online. Among other things, the SSL certificate ensures security. This is a digital certificate that verifies the identity of the website and enables an encrypted connection. The company's simple and transparent operating conditions, guarantees and the possibility of refunds also certainly help.
Online buyers like easy payments and delivery, Čretnik explained. In practice, this means as few steps as possible in the purchase process, transparency, clear instructions, and as many payment and delivery methods as possible, from which the buyer can choose.
The automation of repetitive processes is especially important for the companies themselves, as this can save a lot of time and energy. They can automate, for example, various notifications for customers, after sales activity, inventory posting and so on.
Influencer can increase (or decrease) the value of the brand
" Influencers (online influencers) are a mirror for companies, which many companies are not aware of," said content creator, presenter and influencer Tanja Kocman She explained that clients should take more time and get to know their influencers in more detail, as they are the face of the company.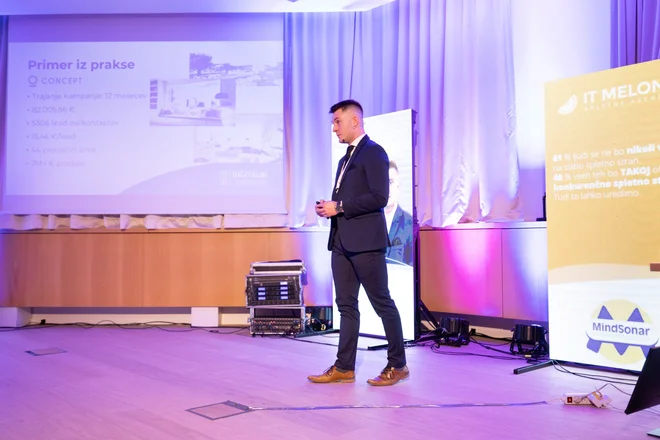 In such collaborations, not only the number of followers of an influencer is important, it is more important that his values ​​and match the personality with the company's values ​​and goals. A problem can arise, for example, if a company that promotes vegan or vegetarian products cooperates with someone who does not eat in this way.
Imagine that a certain influencer would first publish pictures of the products of the mentioned company , and a few hours later, pictures of how it is greased with sausages? It probably wouldn't come off as the most credible, but it would certainly lower the value of the company's brand.
Kocmanova says: "Put quality over quantity when it comes to choosing influencers." In this new trend, companies must pay attention to the mutual understanding of the values ​​and goals of both stakeholders.
If you don't have a video, you practically don't exist

One of the topics discussed at the 9th Digital Laboratory marketing conference was the power of video. In the lecture entitled 'If you don't have a video, you practically don't exist', Tim Zupančič, founder of the company Zupančič Design, explained how important video is in digital marketing.
In the introduction, Zupančič introduced some figures. For example, did you know that TikTok users spend an average of 198 million hours a day on this social network? Or that as much as 82 percent of global Internet traffic is in video form?
In addition, it is true that companies can present themselves with video in an easy and understandable way, and that a good video can have a strong impact on the emotions of viewers . Viewers' attention spans are also getting shorter, and video can offer very interactive content if it's well-made, of course. But how to make a good video?
Zupančič highlighted three main things when creating videos: light, stabilization and the 30 degree rule. An image that is too dark can distort colors and details, and light can also be used to create the desired atmosphere, such as a feeling of cold or warmth. Stabilization makes the video look professional. The 30 degree rule, where the frame is moved by 30 degrees for each scene, ensures that shots of the same scene do not look monotonous.
How to create attractive texts?
Jasmina Strašek, head of the marketing department at IT Melona, ​​presented in her lecture some tips on how to create creative and attractive texts. She emphasized the importance of 'hook' or 'trnka' (eng. hook, the Slovenian translation of the concept serves only for easier visualization), which is used to 'capture' the reader's attention in order to continue reading.
Reader's attention can be obtained, for example, by the following methods; a surprising fact or statistic, a provocative or thought-provoking question, an interesting quote, humor or satire, a sense of urgency or mystery, and so on. in the form of lists or oversimplification in combination with some other techniques. For example: 'These are the 5 foods that won't make you lose weight', '10 ways to get rich' or '7 things to do before winter'.
This form of writing is popular because it allows readers to quickly scan content and easily read information. The form of a numbered list creates a sense of structure and organization, and the promise of a certain number of items can be an effective hook that attracts readers to read.
Strašková also emphasized the importance of a 'call to action' action or CTA) that encourages the reader to take action. A call to action is a call to the reader to do something, sign up for the guide's e-newsletter or buy a product. A call-to-action guide could be: 'Sign up for our newsletter and receive exclusive offers', 'Click here to learn more about our services' or 'Don't wait, book your appointment now'.
In addition, the texts must be interesting, readable and provide some kind of value to the reader. By addressing readers' problems and offering solutions, companies can establish themselves as a trusted source of information and create a loyal customer base.
So what did Boscarol do to make everyone laugh?

PHOTO: Rok Makovec, founder of IT Melon
Rok Makovec, co-founder and director of the online agency IT Melona, ​​asked Boscarola what marketing techniques he used in running his company Pipistrel. "In 30 years, I made only one decision regarding marketing. To stop marketing and sales in 2008," replied Boscarol, making everyone present at the marketing conference laugh.
He explained that at that time all invested the money in the innovation and development of its ultra-light aircraft, which later promoted itself and eventually gained the attention of the world's media. Then he said that "there is absolutely nothing wrong with marketing, but what is wrong is that we generate demand beyond our needs". "Even in marketing, there must be traditional values, because [marketing] can also become manipulative."
In addition to his beginnings with photography and selling badges, as well as personal stories and anecdotes, he shared some evergreen advice with those present. . Among others, that "the end customer must always be your main incentive," and that "there is a fine line between greed and success".
Of course, there were quite a few other excellent speakers and lecturers at the conference. , for example Klemen Selakovič(AIDEA Podkast) and Manca Šalehar(Wolt), who almost unanimously said "user experience is everything". Gaber Marolt, the third co-founder of IT agency Melona and NLP 'master coach', spoke about the importance of a compatible team in marketing and otherwise. He pointed out the importance of having people with the same or similar values ​​in the team, but with as many different and complementary opinions as possible.
Otherwise, we have Makovec and Jerneja Krapša, project manager at IT Melona, ​​confided that "the digital laboratory was created in the desire to enable people to help themselves, organize and understand digital marketing". IT Melona is already preparing the tenth such conference, which will take place this October.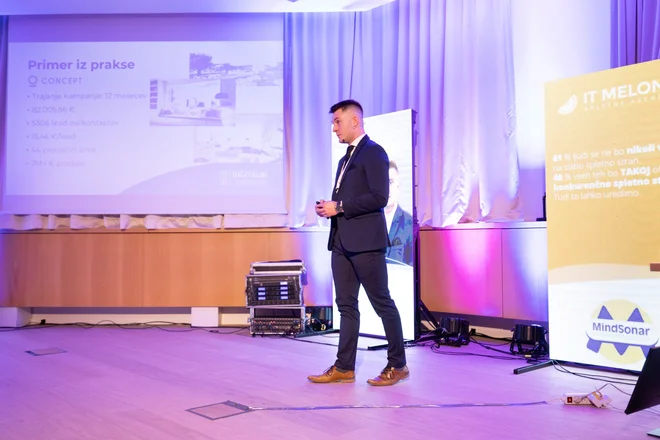 source


The Best Amsterdam hotel Deals

Click the button listed below to get the very best discount rates on hotels in Amsterdam.
---
Visit Amsterdam?
Get The I-Amsterdam City Card and Save!

The I-Amsterdam City Card is an All-In-One Amsterdam Discovery Card that includes Free Public transportation, complimentary entry to 70 museums, totally free canal boat trips, totally free bike leasing, and far more!
Click the button listed below to understand more