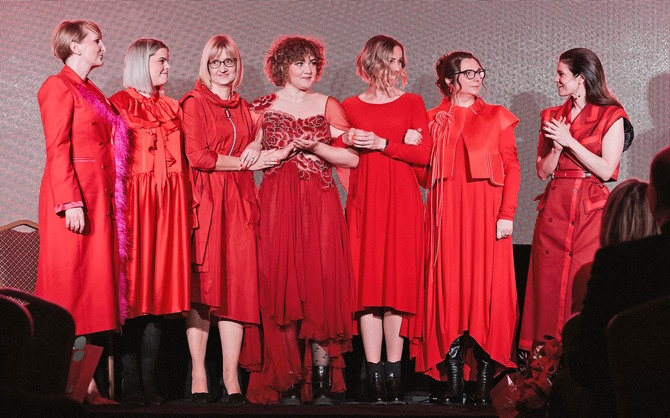 Photo: Zvonimir Ferina
The Red Dress Day educational public health campaign ended with a ceremonial celebration in the Emerald Hall of the Esplanade hotel, and the stars of the evening were women who suffered a stroke
Manuela Kurtić wore the brand Lokomotiva by designer Lana Puljić, Željka Leljak Gracin DNA by designer Nada Došen, Ana-Maria Belčić Robert Sever style, Katica Sertić Xenia Design by designer Ksenia Vrbanić, Ivana Škarpa Dulčić Link designer Oga Antunac and Karla Miklečić creation by Matija Vuica.
" They are really brave, they are strong, they are beautiful. They showed that they can handle with a serious illness, that they can overcome all obstacles, and tonight they will show that they can also be models!"– said actress Ivana Roščić, who hosted the program with Joško Lokas. Last year, Ivana herself suffered a stroke, she readily joined the Red Dress Day campaign, and at the closing evening she was also in the role of a model wearing a Klisab creation by the designer duo Tomislav Kliškinić and Marko Šabarić.
The hall was filled to the last seat with dear guests, and the President of the Republic of Croatia, Zoran Milanović, and the Mayor of Zagreb, Tomislav Tomašević, gave special recognition and support to the action with their arrival.
" I was not aware of this problem in the female population until last year, and I am certainly one of those whom your initiative has reached. I have learned something new, that is the knowledge and awareness of the importance of prevention and treatment of stroke in women. I want as many people as possible, in this case among women, knows about this, to reach out to them," Milanović told the organizers of the action.
The organizing committee of the Red Dress Day consists of neurologist experts Arijana Lovrenčić-Huzjan, Marina Roje Bedeković, Zdravka Poljaković, Svjetlana Šupe and Vesna Matijević and speech therapist Dinah Vodanović who, in their free time, have been diligently and persistently talking about the specifics of stroke in women for the past five years, speaking in public, organizing public and professional meetings and much more.
" Today, after family five years, I am especially glad to see that this action has been accepted by the whole of Croatia, that women have become aware of how important their health is and that our goals are being achieved."– she emphasized in her welcome speech the president of the Organizing Committee, Arijana Lovrenčić-Huzjan, speaks.
Nina Kraljić, Luka Nižetić, Barbara Suhodolčan-Vrbički and the ensemble C'est la vie graced the ceremony with their musical performances, and in addition to the audience in hall, the event was followed by thousands of spectators in a live broadcast on the
Facebook page of the Red Dress Day
On social networks, the action was marked by the hashtag #nosicrveno and hundreds of organizations, schools, associations and known and unknown persons on Friday published photos dressed in something red and thus provided support and sent a message of action: "Stroke can be prevented, take care of your health".
---
The Best Amsterdam hotel Deals
---
Click the button listed below to get the very best discount rates on hotels in Amsterdam.
Visit Amsterdam?
Get The I-Amsterdam City Card and Save!
The I-Amsterdam City Card is an All-In -One Amsterdam Discovery Card that includes Free Public transportation, totally free entry to 70 museums, complimentary canal boat trips , totally free bike leasing, and a lot more!
Click the button listed below to understand more